Another day another tragedy on the set of Bond 25, hey that has a nice ring to it, maybe that's what they should call this film!
This time it comes in the form of notorious diva Grace Jones, who found her role unsatisfactory and walked off set rather than film her cameo for the film. One has to wonder what was explained to the temperamental singer/actress to lead her to believe this part was any more substantial than a walk on? Did EON pull the old bait and switch or did she really think she'd parlay this into a larger role? Whatever her reasons Grace committed an act more heroic than her character Mayday in A View to A Kill. In that film she sacrificed herself by exploding on a mining cart to spare Silicon Valley from Max Zorin's nefarious plot to destroy it. The gallant deed Ms. Jones did in real life was to sacrifice her paycheck from EON to spare us the trauma of yet another homage to a previous film which EON seem to be oh so obsessed with since 2002's Die Another Day.
Speaking of monotonous "homages" to previous films it seems we may have more details concerning the use of the Aston Martin which was doctored up to look like the one Dalton drove in The Living Daylights. According to sycophantic fan site MI-6 HQ, your source for all rumors concerning the brand, size and color of jock strap Craig will be wearing in each particular scene, the film will start with a chase.
Without citing any source they state:
"Lea Seydoux will be returning in her role as Madeleine Swann for the action-packed car chase, that takes place after 007 pays tribute to an old flame."
First of all, if you have to tell everyone how "action-packed" your car chase is, it most likely isn't. Second, one has to assume the "old flame" he's paying tribute to is Vesper, unless Tracy Di Vicenzo is somehow in this convoluted timeline?! So Craig is taking his "one true love" to the grave of his previous "one true love" because that's not weird! This also gives us another "homage," this time to the beginning of For Your Eyes Only, before yet another "homage" to On Her Majesty's Secret Service when Swann dies.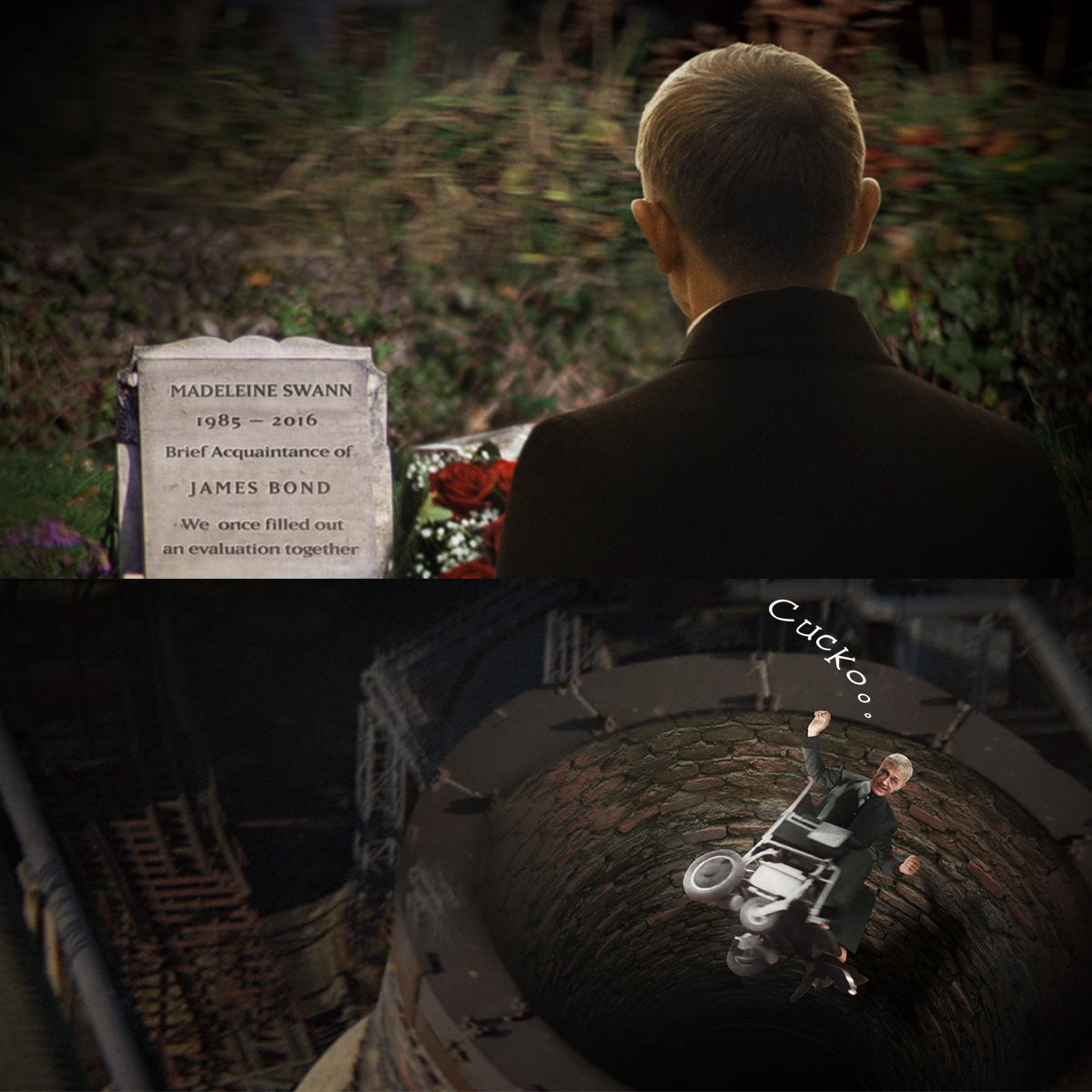 More good news! looking at photos from the set Danny will be continuing his penchant for wearing skin tight suits!
On the music front, Dan Romer has been tapped to score the film that shall not be named. Rather than David Arnold who teased his return in November with a tweet of his "Bond Guitar."
Arnold who has been heralded as the heir apparent to John Barry since he stepped on the Bond scene in 1997 hasn't scored a Bond film in over a decade. All because auteur du jour San Mendes needed his composer Thomas Newman on the two films he directed, god knows why and it seems lightning has struck twice with Cary Funkycoldmadena insisting he have his go to composer score this film. I get it directors have their favorites, Sergio Leone had Ennio Morricone, Alfred Hitchcock had Bernard Herrman and Steven Spielberg has John Williams to name a few. Of course these directors are cinematic royalty, here we're talking about a guy who's most well known claim to fame was keeping Mathew McConaughey sober long enough to mutter some unintelligible dialogue in an HBO series.
Speaking of Spielberg it's well known he desperately wanted to direct a Bond film in the 70's, after the rousing success of Jaws and Close Encounters, he approached Cubby Broccoli about doing so. As history attests it never happened, Cubby (originally from New Jersey U.S.A) claiming he didn't want an American to direct a Bond film, but had no compunction about producing them? Maybe it was because he didn't want an auteur gumming up the works. I say this because it brings to light an interesting dichotomy as his daughter has now done both. My guess is Cubby wanted to keep things uncomplicated with his crew of talented journeymen who wouldn't try to reinvent the wheel. The irony is Spielberg was/is far more qualified than the stage door luvie his daughter Babbz brought in three and a half decades later. But I have digressed enough.
The real question I'm asking by pointing all that out is, if Spielberg had gotten the job would he have had the temerity to bump Barry for Williams? I kinda doubt it.
Now it would be another thing entirely if the composer Funks was demanding was of the caliber of a John Williams etc. but the most famous contribution from this guy is the fifth installment of a video game series… You don't suppose that was the game Funky was playing instead of directing the film? That would explain a lot, he wasn't wasting the crews time he was auditioning composers!