It's all come down to this folks, the rest of this film and all my commentary to this point has only been a warm up to this scene! Of course I am referring to the death of "James Bond," but we'll cross that bridge in a moment, first the Craig-Bond and his 27th one true love must share some stilted, maudlin dialogue!
"Hello, Vesper? (No, no, she's dead) Severine? (No, she's a former child prostitute and also dead) Madi… Madi… Mads Mikkelsen? (No, he's an actor and his character is also dead) Madeline! That's it! I knew it would come to me!" 
The Craig-Bond climbs a ladder to the roof of the 90 year old crumbling bunker which can withstand the full brunt of everything the modern Royal Navy can throw at it. As he does so he mumbles back and forth over his earpiece with Madeline. He informs her Safin is dead, he's not going to make it off the island and everyone is sad.
Someone's got a case of the Mondays!
The Craig-Bond says, "Madeline you have created the most beautiful thing I have ever seen." 
Obviously referring to her macaroni art!
Oh no, sorry he was referring to her daughter! Madeline replies, "Oh god, the vial, you've been poisoned!" How she came immediately to that conclusion I'll never know. She continues, "There must be a way, we just need more time, if only we had more time!" My dear there is plenty of time, the problem is your "one true love" can't be bothered to to take that time and try to find a cure, since he can't be arsed, you're on your own to raise his daughter and she is doomed to grow up without his fatherly guidance.  
"Nice meeting you kid, I'm going to go kill myself now."
The Craig-Bond responds to all this with, "You have all the time in the world."
"Ugh!"
Great, more On Her Majesty's Secret (fan) Service theft! Guess who else has all the time in the world numbskull? You! Get off that island and the best and brightest British doctors and scientists will be happy to work on a cure to this ailment! Hell, by their experimentation, you may even save lives, as I've pointed out there are other strains of this stuff already out there! 
Considering the electro-mechanical nature of these nano-bots it's too bad the Craig-Bond didn't have an EMP emitting device handy to try and negate the deadly effects of the "virus." 
Only one pulse per film, reserved for cheap overwrought dialog gags.
Of course this defeatist character isn't the James Bond most of us grew up with (unfortunately Craig has been "Bond" so long a generation of fans have no clue), the Bond I knew never said die, when a villain had him dead to rights he didn't knuckle under, when a lair was exploding all around him he didn't cower in a corner, Bond always found a way. 
"Duces, I'm out this piece!"
They share their "I love yous" as the missiles begin to streak by. Madeline says, "She does have you're eyes." Obviously referring to Mathilde and her being the Craig-Bond's biological daughter. He replies, "I know." I say who didn't know? I'd like to meet the person who was legitimately surprised by this revelation, I have a bridge in New York City I'd like to sell them!
At this the Craig-Bond looks up at the incoming rockets and smirks:
"The smug, self satisfied smile of an actor who has his producer tightly wrapped around his little finger."
And make no mistake Daniel Craig has Barbara Broccoli firmly tucked deep in his pocket. How else can an actor demand as condition of his return the producer do the unthinkable and kill off the golden goose her father bequeathed to her all while commanding a salary that accounted for a full 10th of the production budget! 
$25 million of a $250 million budget.
Not to mention the continuing stage relationship, I didn't see Cubby producing Dalton in The Tempest On Ice.
Daniel Craig is Macbeth in Barbera Broccoli's production of: oh who cares.
Suddenly the missiles rip into the island, if any of you held out hope that EON and Craig would leave the window open for a Craig return, through an explanation that he ran off at the last minute or was blown clear or any other such nonsense, they made sure to shut that all the way down!
Full evisceration of the Craig-Bond!
So let me get this straight, EON Productions decided to have James Bond kill himself because he contracted a virus that won't allow him to have physical contact with his family… During a worldwide pandemic featuring a virus which prevents physical contact with one's family?
"Great going EON!"
If the last two years have taught us nothing else, it's that there are a plethora of options to communicate remotely. Zoom, Skype, Go To Meeting just to name a few, nope, none of that for our man Craig-Bond! No, he'll "sacrifice" himself for his family, rather than get to know them!
"Sorry darling, I need to get going, I'd rather slash my wrists than speak to you any longer."
Now that we've witnessed the Craig-Bond's suicide, reducing him to a cloud of human mist we cut to M's office several days later. We find the Massive Incompetence 6 team assembled around a small table with a lone glass of whiskey upon it.
M says, "It's very hard to know what to say, but I thought we should gather… And I thought this was appropriate."
"Since he loved to poison his liver so much!"
M continues, reading from a book; "The function of man is to live, not to exist. I shall not waste my days trying to prolong them. I shall use my time." 
"So Flemming!"
Not so fast old boy! Many a Craig wag like to point at this quote as coming from master Fleming due to the final line appearing at the end of the obituary featured in the novel You Only Live Twice, however it is in fact from early 20th century author Jack London. The problem is these same wags, EON writers included misunderstand Fleming and why he enjoyed this quote so much. This quote doesn't fit with the nihilistic, fatalist tone of the film, Fleming had a much more, for lack of a better term, "hedonistic" relationship with the passage. Unfortunately it was Fleming's adherence to this credo that proved to be his undoing. Fleming notoriously smoked 80 cigarettes a day and washed them down with an entire bottle of gin until his doctor suggested he switch to bourbon as a healthy alternative!
"Take two of these and call me in the morning."
Fleming didn't want to deny himself his enjoyment of life in the name of living longer, because after all, is life worth living if done tediously? Knowing this, I imagine Fleming taking delight in the "joie de vivre" expressed by the except echoing his own lifestyle. Instead the producers have read a degree of fatalism into the passage, essentially transforming it to a suicide note, "If I can't have what I want I'm checking out."
"Farewell cruel world!" 
The MI6 team each take a turn clinking their glass with the one on the table 
an act reminiscent of gangsters "pouring one out for the homie."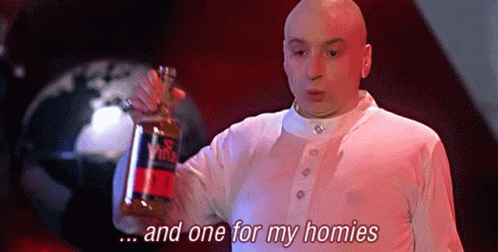 "Rest in Gangstas Paradise Jimmy B!"
Smash cut to Swann bombing around in the Craig-Bond's Aston Martin Vantage along the same coastal highway she and the Craig-Bond were traveling at the start of the film. Inside the vehicle we find Swann and her daughter having a conversation, Swann says, "I'm going to tell you a story." Mathilde stares blankly at her. Swann continues, "I'm going to tell you a story about a man… a man named Bond, James Bond." Unfortunately stories are all this girl is going to have of her father, because he decided to take himself out in the most selfish of suicides ever recorded in cinematic history! 
"I can't bear to be without the woman I abandoned on a train platform five years ago and the daughter I never met!"
Cut back to the exterior of the car and "We Have All The Time In The World" plays, not the rearranged instrumentals from earlier, not a new cover of the song. NO! They have the unmitigated bald-faced cheek to play the original Louis Armstrong version! Have you no decency EON?! They waste no opportunity to dig up a long dead artist and violate their corpse! Bloody hell, such is the state of the James Bond franchise. 
"Just wait until I get you back home and out of that box!"
Well, that's it the end of the film, the credits roll and at the end the obligatory "James Bond Will Return."
I've been waiting over a decade for that to be true, we'll see if the next film starring whomever is cast is true to that statement.
Until next time friends keep Bond alive!
Coda:
As I was writing this installment an event occurred at this year's Oscar presentation, an act of disrespect so callous, so scornful I could not let it pass without speaking on it.
Of course I'm referring to the 60th anniversary tribute to Bond. Consisting of a generic two minute montage which could have been culled from any fan made YouTube channel:
Introduced by three has-been American extreme sports competitors.
Specifically a skateboarder, surfer and snowboarder (sounds like the beginning of a bad joke). Why? Were the surviving Bond actors too busy? Lazenby couldn't fit the biggest event in cinema into his tight schedule? Dalton couldn't find the time? Brosnan and Craig couldn't be arsed?
As I said above such is the state of the franchise, EON productions are at a crossroads, continue pandering to the people who exhibit this begrudging contemptuousness in their lazy obligatory montage, or return to the fans and give us back our classic Bond. Only time will tell, but I'm not holding my breath.