It's a  M related spoiler which most paying attention to the development of Bond 23 have suspected for a long time.
Fist a little bit of casting news
The Daily Mail reports the lovely Tonia Sotiropoulou is being touted as a new Bond Girl, she had tired out for the role of Severn, for which Bérénice Marlohe won the role.
A touch of spoilers below.
The scene Tonia has is rumoured to be part of the opening/pre-title sequence of the movie. Leading eventually to a recycled train chase in Turkey. (The train chase was originally a GoldenEye stunt that was shelved.)
According to the Daily Mail  Tonia is helping to smuggle Craig in to the country after it is believed he is dead. Wait a minute, that seems familiar….
Tonia will be on location for five days in Istanbul to film the opening sequence in which Bond is smuggled into the country after being believed to be dead
Wait. No don't tell me they will cover Craig in gold paint to smuggle him in a barrel of crude oil while he is wearing the wetsuit from the pre-title sequence of Goldfinger complete with bird atop his head.
Recycling old unused stunts is sort of a Bond tradition, if they can't use a stunt one movie they try to use it in another. With the You Only Live Twice plot device recycling news it seems they are once again using parts of old/classic Bond movies (DB5 anyone?), to try to tug at the fans heartstrings and play off the sentiment of us classic Bond fans. Let hope for the sake of the franchise they do a better job in Skyfall than they did in that awful art-house wannabe film Quantum of Solace.
Now to the real spoiler
A Farewell to M
This is something most of us have suspected, it is not confirmed but fits with what is known of the Bond 23 production. Still take it with a pinch of salt at this point. We do know for years Judi Dench has wanted to leave the role but was always talked into doing another .
Special thanks to "Thunderpussy"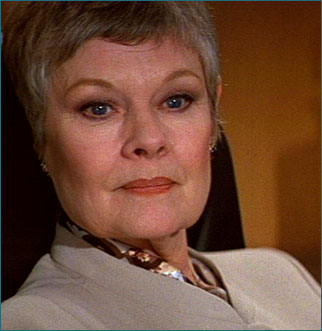 We have it from a fairly iron-clad source (a member of the Skyfall team) that there's going to be a fairly momentous death in the next Bond film.

"We've just filmed M's death scene. Judi Dench is leaving the franchise."

So Skyfall will feature the death of our beloved M. Well, either that or a fairly extensive, not-very-Bond-like dream sequence which features Bond's worst fears coming true. Or maybe team Skyfall are just filming LOADS of deaths just to keep us pesky journos off their tails. But to be honest, this news fits in with other rumours floating around the franchise. A couple of months ago we heard that Ralph Fiennes was set to replace Judi Dench in upcoming Bond films, but we as yet had no idea how it would happen, and indeed whether it was true. Well, there you have it folks. Shaken? Stirred? You bet we are.