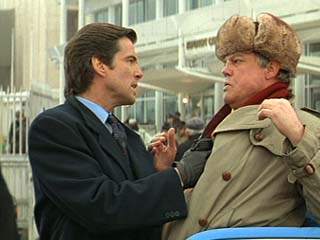 File this one under strange next to the tinfoil hats. Besides the idea of Ms Broccoli's EON Productions cooperating with the CIA on anything like this being extremely unlikely bordering on insane, the activities described sound like average goings on at a movie set.
A shocking allegation hit Turkish media about the new James Bond movie SKYFALL. IHA news agency reports that Skyfall set is being used to transport arms for Syrian dissidents who are fighting Ashad soldiers. It turns out not the scenario of the movie but itself is absolute spy scene.
The new Bond movie is currently being shot in Adana province of Turkey, where also the İncirlik air base of the Unatidet State is located. For the Skyfall shooting, main railway line of the city has been shotdown for several days. A local paper of Adana hit the shelves today claiming that shooting of tha Skyfall is a cover up for arm transportation to Syria by CIA. The paper darws attention to the fact that 13 minutes of the movie is being shot here but the star of the movie, Daniel Craig is nowhere to be found. One of the bussiest highway of the city and the railroad has been shot for several days in Adana. The paper says truck loads of stuff is being brought to the movie set and in which no media is allowed. İhlas news agency reminds the detail of the local paper being visited recently by Israel's ambassador to Turkey, Gabi Levi.